IT'S HERE!!!!!!!!! It gives me great pleasure to give to you "Ghoul Poon Presents DO THE FRIGHT THING VOLUME 3″!!! FREE DOWNLOAD
I received so many great submissions this year that I had to cut quite a few tracks. But fear not! There will be a BONUS EP for free download later tonight. The compilation features both Capital Region and national acts this year. Enjoy! Happy Halloween!
Ghoul Poon Presents Do the Fright Thing Vol. 3
FREE DOWNLOAD : http://lofikabuki.bandcamp.com/album/ghoul-poon-presents-do-the-fright-thing-vol-3
1. Christopher Brown – Call Me Monster
2. Black Andy – Graverobber
3. The Strange Walls – There Was an Old Woman all Skin and Bone
4. Marlo Eggplant – Bleep Babble
5. Cacaw – Pazuzu
6. Ghoul Poon – No Tricks 'til the Wound's Treated
7. Holy Sheet – Warewulf
8. 1983 – Lonely Ghosts
9. Kite Person – Bloodsport
10. EGP – Trails from the Crypt
11. Le Sphinxx – Red Light
12. Wild Orphan – Asleep with Her Death
13. Capital Air – Dead Flowers
14. Pinkriverdolphin – Skeleton Dance
15. Nursing Home Discoveries – The Hitchiker
16. Manburger Surgical – Dismal Phantasm (Edit)
17. Tobiaz – You Fear It
18. Zilmrah – Spooks in a Shadow (Edit)
19. William Hale – The Tall Harvest
20. Girls of Porn – NBA Jam
21. Catacombz – Gold Mold
22. Advaita – The Ballad of Sid Vicious
23. Human Host & American Folklore – Eye of Newt
24. Birthdays – I've Been Growin
25. Asamorris – Let the Leaves Fall
Cover art by Stefaine Demas
Here's a music video for my single from the compilation
Ghoul Poon "No Tricks 'til the Wound's Treated"
Two disc Halloween compilation released by Sub-Bombin artist Ghoul Poon. Consisting solely of musicians from the capitol region of New York!
GHOUL POON PRESENTS – DO THE FRIGHT THING – VOLUME TWO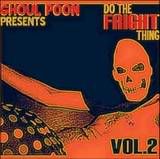 1. WDIE FM (Intro) – Lofi Lobo
2. Theory of Witches – Machete
3. Sparkle Mag – Todd is New Each Moment
4. Voodoo – Oddy Gato
5. WDIE FM (Interlude) – Lofi Lobo
6. Heartless Vampire – Ghoul Poon
7. Apart at the Seams – Nursing Home Discoveries
8. Beautiful Funeral – Eraserheadz
9. WDIE FM (Interlude) – Lofi Lobo
10. Cut (Up Some Sheets) – Grady Stiles
11. Off With His Head – Barons in the Attic
12. American Lobotomy – Charlie Don't Surf
13. I Go Out at Night – Black Andy
14. WDIE FM (Interlude) – Lofi Lobo
15. Head Crack – Pete Pluto and GM
16. Lights Off – The Boston Celtics
17. Touch the Sky – Tobiaz
18. Return of the Ghost – Asa Morris
19. WDIE FM (Interlude) – Lofi Lobo
20. Candybars and Razorblades – Oz Alone
21. Sarcoughagus – Skeletons in the Piano
22. Power Slut – Grab Ass Cowboys
23. Barnabas Collins – Motel
24. WDIE FM (Outro) – Lofi Lobo
GHOUL POON PRESENTS – DO THE FRIGHT THING – VOLUME ONE


1. Oh! It's Halloween – Desperately Obvious
2. Zombie Apocalypse – Daytime Soiree
3. Halloween 1985 – Scientific Maps
4. The Monster – Asa Morris
5. Superstition – Pete Pluto, Mr. Mcfeely & El Sciz
6. Ghost – Suzy Wong and the Honkeys
7. Satanic Lunch – Ghoul Poon
8. For Buffy the Vampire Slayer – Matthew Loiacono
9. Buried Alive – Mr. Mcfeely
10. Ghost Food – Firefighter Font
11. The Butcher – Sai u Drom
12. The Monster Song – Beware! the Other Head of Science
13. Around the Bend – Tobiaz
14. This Halloween – Contact Kiss
15. Witch's Brew – Harry Pyle
16. Ghosts from Outerspace – Pinkriverdolphin
17. Mask Slips – GM
18. Halloween Show – Christopher Brown
19. Bad New for Barbara – Worlds of Shit
20. The Man Who Comes to Take You Home – Daniel Levine
21. Them – Jason Cosco