At times I had my doubts, but in the end everyone came through for the wonderful 518 Halloween compilation I've wanted to do for the past few years!! This baby has 20 tracks featuring A LOT of different local music. Artists included are: Desperately Obvious (Albany), Daytime Soiree (Saratoga Springs), Scientific Maps (Albany), Asa Morris (Glens Falls), Eraserheadz (Saratoga Springs/Cambridge), Suzy Wong and the Honkeys (Albany), Ghoul Poon (Saratoga Springs), Firefighter Font (Saratoga Springs), Sai u Drom (Saratoga Springs), Harry Pyle (Albany), Chris Brown (Saratoga Springs), Beware! the Other Head of Science (Albany), Tobiaz (Albany), Contact Kiss (Saratoga Springs), Pinkriverdolphin (Troy), Matthew Loiacono (Ballston Lake), GM & Khil (Albany), Worlds of Shit (Albany), Daniel Levine (Saratoga Springs) and Jason Cosco (Albany)!
The album and artwork will be available for free download @ http://www.sub-bombin.com on October 25th!
Seriously thanks again to everyone who helped me with this.. until next time..
On a different note I'm making my return to Hotshots tonight with the almost famous Charlie Everywhere. Special guests include Witness and Wake Up Electrified. I'll be doing my usual death dance set with Chris Brown.
The October 9th UAG show was amazing.. Me and Asa cranked out a seriously noisy freakout. Grab Ass was too damn short, but GOTDAMN Boar & Make Believe Bombs fucking schooled us on the noise tip.
Enjoy a few shots courtesy of CBP & Dave Gunn..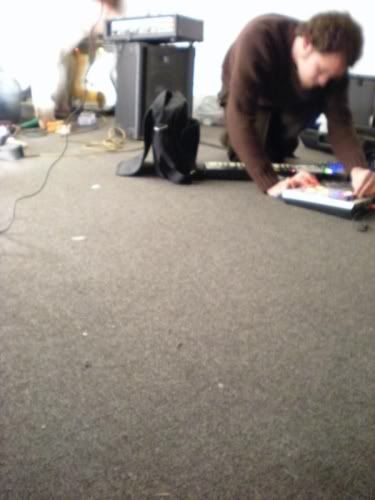 October is finally here beetches.. and this Thursday (10/9) I'll be making my return to the lovely Upstate Artists Guild in Albany. As usual I'll be spreading sonic goodie fuzz, performing with Grab Ass Cowboys, Worlds of Shit and two Iowa noise bands; Boar and Make Believe Bombs to Blow up Make Believe Worlds. It's going to definitely be a good one. I'll be following my new trend of making every Poony show a different one by doing a split battle set with Asa Morris (of Super Concentration Club) from Glens Falls. Me and Asa are new buddies, have way too much in common and will be playing together for the first time in front of an audience, so it should be interesting.
at this show I'll be giving away a handful of copies of "The New Killer", the first CD me and Jeff did as If Yes, Then No back in 2007. I think it's ready to be heard by more than two ears. You can hear the EP almost in it's entirety over at http://www.myspace.com/ifyesthenno. Speaking of IYTN, "The Umberland Remix" will probably find it's release at the next UAG show I'm scheduled for. Asa too will be giving away free copies of his latest EP "Mute". So, come out.. watch the creepy visuals courtesy of Jason Cosco, watch the Albany noise boys battle it out with some Iowa noisers to see who can knock down the most paintings, get some free cd's and witness me and Asa's half hour of spacey fuzz.
I go months sometimes without any shows lined up. suddenly they pile on top of each other. Last thursday I did a VS set with Jason Cosco and Adam Stump of Grab Ass Cowboys opening for the ridiculously awesome Hair Police. And I mean… honestly, thank god Thurston Moore played at the UAG.. the attendance at these noise shows has very noticeably been boosted. Century Plants and Rise Set Twilight did a VS set as well and Bone Parade put everyone in the mood before Hair Police exploded into horrible caveman goodness.
yesterday at the last minute I threw down a set at Hotshots (replacing the failed A Fetish for Ethics reunion), playing four songs off "Dog Buys Pistol" and closing with my devilish cover of Classics IV's "Spooky". Some got it, some didn't.. I mean.. I was opening with psych death dance at a hip hop show. I Chris Brown has been shredding the crunchy synths to add to my death dance shows.  Pete Pluto destroyed.. best 518 hip hop performer, hands down. I missed Witness and Oddy Gato.
I've got quite a few shows lined up. First (not quite official), word has it I'll be opening for Mathematicians at Hotshots on Sept 1st. Also on the 15th at Hotshots I'll be playing another show with Rochester's Audibel and his metal band AIDS. On the 22nd (also at Hotshots) I'll be doing a noise set with Jason Cosco and Jeff from If Yes, Then No.. opening for Pinkriverdolphin, Harry Pyle and more TBA. Finally, I'll be playing October 9th at the UAG with a couple of noise bands from Iowa called BOAR and Make Believe Bombs Blow Up Make Believe Worlds. Also joining us will be, of course Grab Ass Cowboys and Worlds of Shit.
take that shit, smoke it and watch Pineapple Express this weekend fuckers! See you at the Mill Fest.
photos!
Ghoul Poon VS Jason Cosco VS Adam Stump = GRAB POON COWBOYS
7/31 @ UAG, Albany, NY

Ghoul Poon
8/4 @ Hotshots, Glens Falls, NY